What is a Klargester BioDisc?
Over 25 years experience in wastewater & sewage treatment.
Best prices guaranteed. Contact us if you find the same product cheaper elsewhere.
Direct Drainage are an authorised reseller for major manufacturers.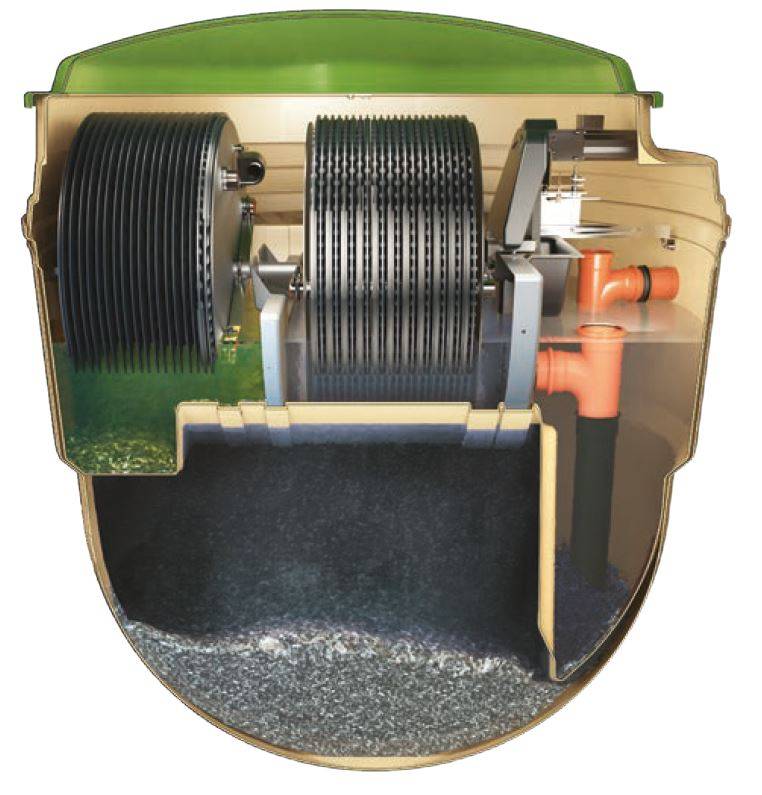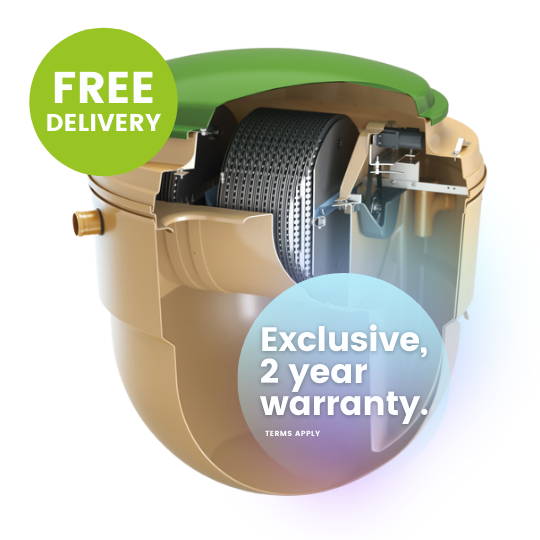 The BioDisc is a top-of-the-range sewage treatment system from Klargester, the UK leading manufacturer of sewage treatment solutions.

The Klargester BioDisc is unique to other sewage treatment systems in that the treatment process is provided through a Rotating Biological Contractor (RBC), media discs mounted on a shaft which are powered by a motor. These discs rotate and bacteria grows onto them, treating the sewage to a level where the resulting effluent is suitable to discharge directly into a watercourse.

How the Klargester BA BioDisc works

The Klargester BioDisc is ideal for areas where discharge is to sub-surface irrigation or to a suitable watercourse if permitted. The Rotating Biological Contractor is unique to the BioDisc, and comprises of media discs onto which aerobic micro-organisms, naturally found in sewage, become established. Natural breakdown of sewage can then occur via the 'breakdown process': Wastewater and sewage flows into the primary settlement zone where solids are settled out and retained. This accumulated sludge should be drawn out periodically.
Partially-clarified liquor containing fine suspended solids flows upwards into the first stage Biozone for breaking down by micro-organisms on the RBC. Suspended solids return to the primary settlement zone and the liquor is transferred to the second stage Biozone for further treatment.

Any solids remaining are settled out in the final settlement tank. The resulting very high quality effluent can be discharged to a watercourse.
All of the other sewage treatment systems we supply are powered by a remote air blower, which feeds air into the sewage and treats through either fixed or loose media.

The Klargester BioDisc is a complete package system in that all the components are housed inside the vessel itself. The only separate parts are the green control panel and flashing alarm beacon, which will alert you to any problems that need to be rectified by an engineer. We sell the BioDisc in a range of size, from the BA BioDisc which covers up to 4 bedrooms, to the commercial BioDisc ranges which are priced upon request.

Lead time can be from as little as 3 working days, and delivery within the UK is free.

We also sell a variety of replacement Biodisc spare parts, and keep them in stock for quick delivery at low prices.

Browse our website for more information or give us a call on 01388 537050 and we will be happy to help.